Bluehost Review – Best Reliability
Bluehost Review
Recommended: 99.99% Uptime and Solid Speed Last 8 Months
Bluehost Review – Best Reliability. Over the past 37 months, I've been a paying for and quietly reviewing BlueHost's services to help you determine whether or not they are the right hosting company for your needs.
A lot has changed since I first signed up with the company and, in this review, I'm going to lay out the objective metrics and data such as uptime, load time, and customer support statistics.
Without any further ado, here is my honest review of Bluehost's services.
Bluehost Background Information
Bluehost is currently responsible for hosting more than 2 million websites all over the world and is one of the most popular and least expensive shared hosting services available.
Founded in 1996 by Matt Heaton and Danny Ashworth in Provo, Utah, they have a staff of 750 employees working around the clock to ensure the highest quality of service possible.
And while the company's long history and dedicated support staff provide a certain degree of confidence in their offer, I've noticed a serious problem with most Bluehost reviews…
They make glowing recommendations for the service without taking any objective data or metrics (like load time and uptime) into account.
But not us…
This review is based on actual statistics and data, gathered over the course of more than 3 years of testing Bluehost's cheapest 'shared' plan.
You can even see our live test site here.
So what was our experience with Bluehost over the past 37 months?
Let's dive in and find out…
Pros of Bluehost
As is the case with all of our web hosting reviews we are committed to providing you with the most unbiased and transparent information on the web and we rely heavily on statistically relevant data and quantifiable metrics to determine the quality of a web host.
Here are just a few of the "Pros" of using Bluehost's services (according to the data).
1. Strong Uptime of <99.99% (#1)
Since their services underwent a major overhaul, Bluehost has improved its uptime so profoundly that it's darn near perfect (<99.99%).
With only 2 outages in the past 8 months, Bluehost's phenomenal uptime is well over the industry standard of 99.94% and resulted in only staggering 9minutes of downtime out of the 4380 hours that we logged over the period of our review.
Although their uptimes took a serious hit in August of 2017, Bluehost claims that the problems were due to various DDoS attacks directed at their servers and the numbers have been trending up ever since.
Overall, it's the best uptime we've seen over the past 8 months after monitoring more than 33 hosts:
January 2018 average uptime: 99.99%
February 2018 average uptime: 100%
March 2018 average uptime: 100%
April 2018 average uptime: 100%
May 2018 average uptime: 99.99%
June 2018 average uptime: 100%
July 2018 average uptime: 100%
August(19'th) 2018 average uptime: 100%

Bluehost: Page Load Speed and Uptime (Last 8 months, full data can be found here.)
Conclusion? Bluehost is the most reliable web hosting according to our research.
2. Fast Page Loading – 427ms (3rd Fastest)
When we last reviewed Bluehost's services in early 2016, their speeds were, shall we say, less than satisfactory.
With an average speed of more than 1,500 ms, they were too slow to even rank in our top 10 (in fact, their services were #20 on our list from 2016 to mid-2017)
However, since the summer of 2017, Bluehost has improved their load times… By nearly 300%.
With an average load time of only 427 ms, Bluehost managed to pull itself up by the bootstraps and rise through the ranks to the 3rd fastest web host that we've ever reviewed.
Surprised by this sudden and unexpected jump in their page load times, I personally reached out to their team and asked how they managed to improve their speeds so drastically.
Their answer was simple, "We wanted to improve our customer experience and decided to invest in upgrading our 'Bluerock' server park"
And the results speak for themselves…
Last 8 month average load times:
January average speed: 415ms
February average speed: 463ms
March average speed: 429ms
April average speed: 409ms
May average speed: 406ms
June average speed: 468ms
July average speed: 418ms
August(19'th) average speed: 408ms
That's not bad. In fact, Bluehost hosting ranks 3rd in speed.
You can find the statistics for the full 37 month review here.
3. Low Introductory Pricing ($3.95/mo)
In the past, I found it hard to justify using Bluehost's services due to their exorbitant price tag and lackluster services.
However, in 2018, not only has Bluehost improved its uptime and load times by hundreds of percentage points, but they've also positioned themselves as one of the most inexpensive web hosts on the market.
Although they aren't the cheapest provider when compared with other hosts, the improved servers and the lowered price tag makes them an excellent option for even the most frugal of webmasters.
While we aren't evangelizing BlueHost in any way, we did manage to negotiate a pretty stellar deal for hostingfacts.com readers. By clicking this link, you can get about 65% off of Bluehost's retail price and host your website for only $3.95 a month.
4. Good Security Options
With the myriad of cyber attacks and major data breaches that have been proliferating the marketplace, finding a web host with sufficient security options is more important now than ever before.
Luckily, Bluehost offers some great tools to combat and prevent some of the most common attacks and risks.
For example, you can prevent spam with tools like SpamAssassin, Spam Experts, and Spam Hammer. They also support CloudFlare, which helps prevent pesky DDoS attacks that can bring a site down by sending an overwhelming amount of "fake" traffic from different sources.
They also offer hotlink protection (which prevents people from stealing your images and content), IP address blacklists to block problematic individuals, SSH access for secure web sessions, and optional filters that you can use for specific users and email accounts.
You can also password protect your directories, create blacklists for IP addresses, and manage digital certificates and private keys right from Bluehost.
But they don't stop there.
Bluehost has also integrated several layers of security to protect you on the account level.
You can enable two-factor authentication with your Bluehost account, and they've built the entire site with token account validation.
With token validation, you can prove your identity when you contact customer support by giving a six-digit code to verify your identity before having to give your password to a customer support agent.
All in all, Bluehost comes armed to the teeth with plenty of security features that will keep you, your audience, and your website safe.
5. Many Integrations, Apps, and eCommerce Features
In addition to the many security features listed above, Bluehost also comes equipped with an application-rich dashboard that allows you to integrate different services such as Google Apps and the aforementioned CloudFlare directly in the cPanel.
By integrating Google Apps into the Bluehost platform, you'll be able to bring all of the perks of Google to your business right from the heart of your hosting account.
Cloudflare, on the other hand, is a popular, free CDN service that can boost your site's speed and help keep it secure from potential hacks and breaches.
Furthermore, Bluehost has radically simplified its eCommerce features, allowing customers to seamlessly setup an online store with an endless number of shopping cart options. Simply click "Install" and get down to business.
Bluehost also says that you can use MOJO Marketplace to install shopping cart software, manually install software on your own, or hire a developer to install and/or manage it for you.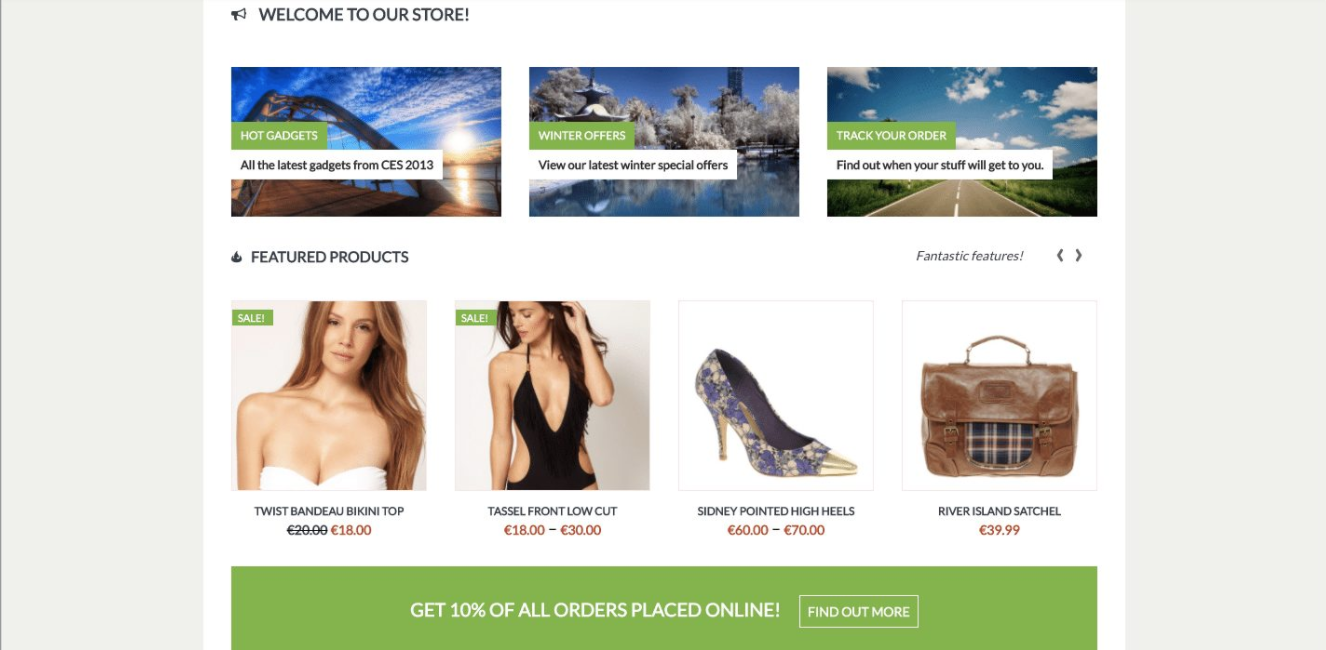 Simply choosing Bluehost allows eCommerce sites to obtain a free SSL security certificate, OpenPGP/GPG Encryption, and more right away.
6. 'Official' WordPress.org Recommended Host
Although you should typically take non-data drive hosting recommendations with a grain of salt, when the world's largest CMS recommends a hosting provider, it's typically a good idea to listen up.
The WordPress official site (WordPress.org) recently re-made their hosting page and listed their 3 favorite hosting providers. Among those included are SiteGround, Dreamhost and, you guessed it,  Bluehost.
 7. Easy to Use
Bluehost is simple to use and very beginner friendly.
The cPanel interface is just about as simple as web hosting can get. All you've got to do is click on the icons and get to work.
What is that Staples slogan again?
Right… That was easy!
With Bluehost's simple interface, you can access all of your websites and email addresses from one place.
Plus, you can customize how you want to lay out the cPanel to fit your specific needs so that you can quickly reach the features you use the most.
8. 30-Day Free Trial and Money Back Guarantee
For the commitment-phobic among you, Bluehost offers a 30-day money back guarantee, allowing you to take their services for a spin before committing your hard-earned cash.
While this guarantee isn't quite as extensive as other competitors, like Dreamhost which offers a 97-day money back guarantee, 30 days is more than enough time to determine whether or not Bluehost is the right provider for you.
However, it's important to note that some terms apply if you want to claim your refund:
Namely…
The money back guarantee doesn't apply to add-on products like domains.
If you cancel within 30 days but your plan includes a free domain, Bluehost will deduct $15.99 from the total amount of your refund as a domain fee. The company claims that this is to "cover their costs" while ensuring that your chosen domain name isn't lost. It's important to note that newly registered domains can't be transferred until a 60 day registration period has passed.
Cons of Bluehost
1. Their Customer Support is FAST but Could be More Knowledgeable
Although Bluehost has seen an astronomical improvement in its customer support response rate in recent months (in fact they have a near-perfect internal customer review score), the quality of their customer support is still lagging behind its contemporaries.
While the customer support team can now handle inquiries with lightning-fast speed, I found that some of the more technical questions eluded support representatives and required multiple inquiries to resolve.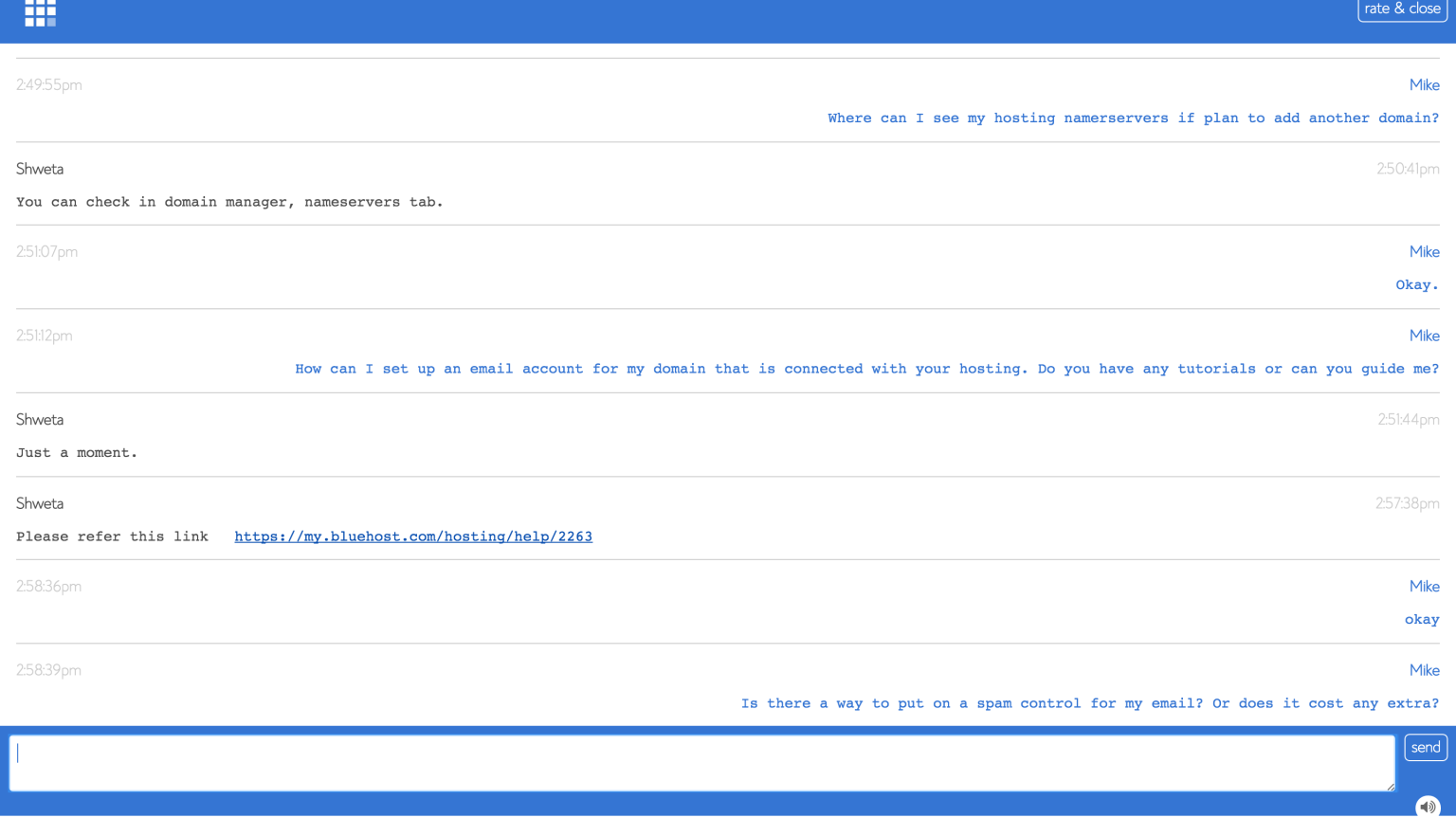 However one positive is that their YouTube channel DOES contain tons of helpful tutorial videos. So if you don't mind rolling up your sleeves you can probably resolve 90% of your potential problems by yourself.
2. The $3.95/mo Price Only Comes with 36-month Plan (But $4.95/mo is Still Cheap)
Bluehost is cheap.
But just how cheap? Well, it depends…
Their super-low introductory rate of only $3.95 a month comes with a few strings attached. Namely, it requires a three-year commitment.
If you only want 12 months of service, your rate jumps up to $5.95 per month.
And at this point, only HostGator Cloud allows for hosting periods as short as 1-3 months.
Personally, I'd recommend biting the bullet and taking them up on their 3-year introductory offer because their basic 12-month renewal price jumps up to $8.99 a month.
3. Site Migrations Aren't Free…
Most of the hosting providers we've reviewed will happily help you move an existing site from its current location to their service.
After all, it's a quick procedure to get you to switch companies and become their loyal customer for the next few years.
Unfortunately, Bluehost is not one of those companies.
They charge a 'migration fee' of $149.99 to do something that most provide gratis. And they will not transfer more than 5 sites and 20 email accounts.
Speaking of extra fees, a simple 45-minute introductory walkthrough of their services will set you back $79.99.
Again, something most hosting providers are all too happy to provide complimentary because you're signing up for their service for the long-term.
BlueHost Pricing, Hosting Plans & Quick Facts
Bluehost provides three shared hosting options to choose from.
However please note that advertised pricing below is a low introductory rate for a three-year term. Rates for shorter plans are more and you can't get anything lower than 12 months.
Also, the word 'unlimited' doesn't always mean unlimited (as discussed in the last section).
Basic plan: For 3.95 per month, you get one website max, 50GB storage and 'unlimited' bandwidth. You also get 5 email accounts (with a max storage of 100MB each).
Plus plan: $5.45 per month provides 10 websites, 150GB storage, and 'unlimited' bandwidth. You also get 100 email accounts of 500MB each.
Prime plan: Their largest plan comes normally at $5.45 per month, providing 'unlimited' websites, storage, bandwidth, email account and email storage. (Currently On Sale)
You need to pay for three years at once to enjoy the advertised price for their shared hosting plans. It will cost much more if you choose a shorter duration, and the minimum duration you can pay for is 12 months.
Free domain? Yup.
Ease of Signup: Easy two-page signup process.
Payment Methods: Major credit cards and PayPal.
Hidden Fees and Clauses: The low introductory starting rate for three years minimum (with renewal plans that jump). And that whole, we'll delete your account if you go over 1,000 database tables or 3GB total database, thing.
Upsells: Some Upsells… But it's common in the web hosting industry, so don't worry about it.
Account Activation: Most users enjoy instant activation for most users. If the information is inaccurate or there's suspicion of fraud, activation might get delayed.
Control Panel and Dashboard Experience: Simple, easy to use control panel.
Installation of Apps and CMSs (WordPress, Joomla, etc.): Mojo Marketplace makes app installation quick and easy!
Do We Recommend Bluehost?
Yes, we do.
It's the best in uptime and reliability (next to HostGator Cloud) and the speed isn't bad either.
They're cheap and it's easy to get started. Hence the reason why Robert Meaning is suggesting people start their blogs using Bluehost.
Overall, Bluehost is our TOP 1 host and you shouldn't go wrong with it.