FastComet Review – Solid host with one major drawback
FastComet Review - Solid host with one major drawback
FastComet Review – Solid host with one major drawback
FastComet Review – Solid host with one major drawback
We signed up for FastComet in November 2019, paid, and set up a test website. Since then, we've monitored everything from uptime to speed and even their customer support. Here's what we've found so far…
What is FastComet Hosting?
FastComet is headquartered in San Francisco. They feature a worldwide customer base of 45,000+ across 83 countries.
That diverse customer base is supported by their eight server locations in major cities like Chicago, London, Amsterdam, Singapore, and Tokyo.
(The closer the server to people trying to reach it, the better-expected is the performance – so the theory goes.)
FastComet is also one of the few private companies in the hosting business, duking it out with mega-conglomerates like EIG, who has the unique distinction of owning pretty much every brand on the bottom half of our rankings.
Being private means there are only a few dozen people in the organization, whose actual names and faces appear on their site. (We'll get into why that matters in a second.)
So how did they fare? Can a small, scrappy upstart trying to support a worldwide customer base keep up with billion-dollar hosting brands?
We signed up for an account to find out. We purchased the cheapest plan in November 2017 and set up a test WordPress site.
Here's a link to our test website so you can check it out for yourself. Since November, we've been tracking uptime figures and site speed in Pingdom (you can view those results, too).
Let's get into our early findings by starting with what FastComet does well.
Pros of FastComet Hosting
FastComet makes some pretty bold claims for a relatively young, small firm.
The good news is that they were able to back up a lot of them, posting strong uptime in the several months we've monitored with them.
They also go above and beyond typical hosts with transparent pricing and free additional services.
Here's a full look:
1. Strong Uptime Out of the Gate
When you visit FastComet's homepage, one of the first things you'll see is this awesome graphic: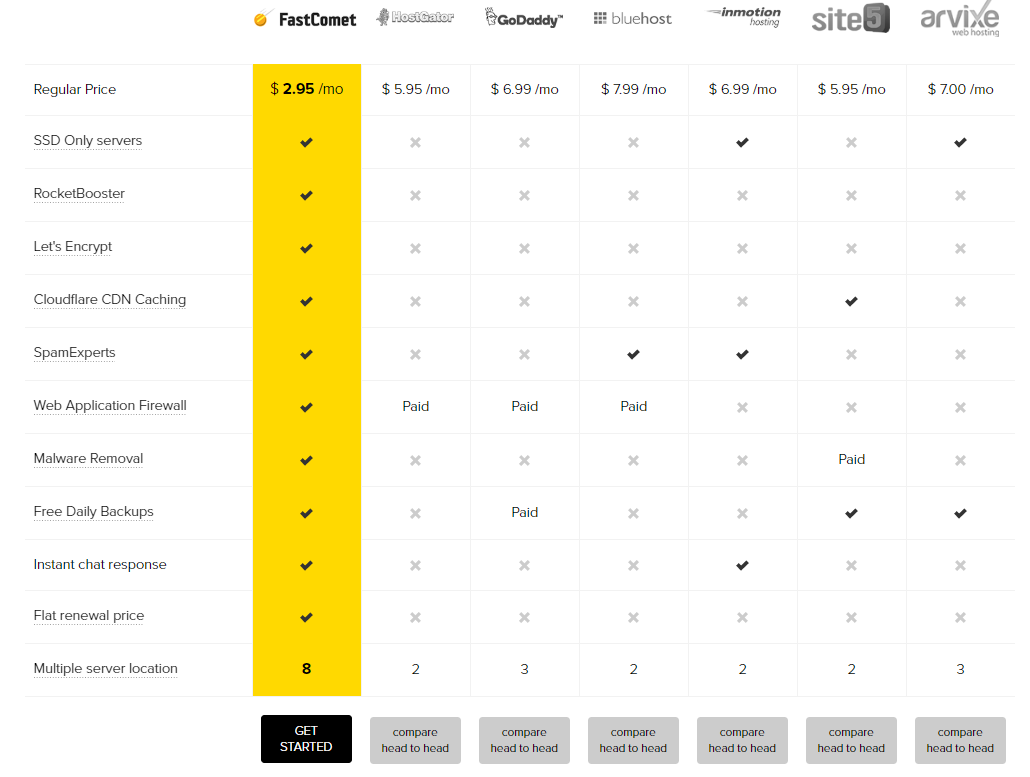 It quickly positions their services against many of the best-known brands in the industry. And it assures you that they're the best in overall.
Fortunately, their uptime performance started off strong. The first few months were a flawless 100%, with later months only dipping slightly.
The average comes out to an excellent 99.97%.
Here are the monthly figures to back that up:
Last 10-month average uptime:
December 2017 average uptime: 100%
January 2018 average uptime: 99.94%
February 2018 average uptime: 100%
March 2018 average uptime: 99.99%
April 2018 average uptime: 99.99%
May 2018 average uptime: 99.96%
June 2018 average uptime: 99.98%
July 2018 average uptime: 99.96%
August 2018 average uptime: 99.96%
September 2018 average uptime: 99.95%

Click here to find more detailed insights about Fastcomet uptime and speed.
2. Fast, Personal Support
FastComet might be small in comparison to other hosting companies, but that can also work as an advantage.
For starters – the team has been around the block a time or two.
The public cloud hosting side of the business has officially been around since only 2013. Before that, the founding team had been in the hosting business for over nine years.
They worked almost exclusively on System Admin for business clients (read: big, complex, expensive). Hence – if they were able to take care of that kind of business, scaling down shouldn't be a problem.
True to form, they've run over 400,000 live chat sessions and 875,000 support tickets.
The second major benefit of a small team is that they're able to offer fast, friendly service that most other companies can't match.
Here's how this support section usually reads on every other hosting company.
The company's live chat pops up. In most cases, you have no idea who you're dealing with. There's usually a small chance there is a picture of the person helping you, it's obviously a fake, stock image.
(Or worse – they don't offer live chat and force you to send an impersonal, slooooow email.)
But not FastComet.
Shortly after visiting their site for the first time, Bogdan reached out for help. To my surprise, he started engaging seconds after I threw a question his way.
Now, you'll notice a few misspellings. But you know what? I'm actually OK with it.
Bogdan was super friendly, answering my queries within seconds. It shows he's a real person who's friendly and wants to help.
Sure enough, head on over to their team page and you'll see Bogdan's picture again!
So this isn't some unprofessional, call center that barely pays minimum wage. FastComet invests heavily in customer support and it shows.
3. Longer-than-Usual Money-Back Guarantee
Let's be honest with each other for a second:
Moving to a new hosting company sucks. Seriously – it's super disruptive, forcing you to take down a seemingly-good site. It's also time-consuming and technically problematic.
So the last thing you want to do is be forced to move your host again because you're unhappy with the one you chose (but are now locked into a long-term, prepaid deal).
Fortunately, FastComet will give you a full 45 days to get your money back. That means you can try out their service, or even spin up a test site like we did, and have over a month to vet them.
This 45-day period is among the longest we've seen. It means that FastComet is confident in the service they provide.
4. Free Daily Backups
You know what they say… 
happens.
Like it or not, you're bound to run into site problems that threaten to derail all the hard work you've put in. Stay in the game long enough and it's bound to happen to everyone.
No problem if you're on FastComet, though.
First, they offer free daily backups. That's almost unheard of on cheap, 'value' plans.
Second, they'll store these backups for you, safely off-site for up to 30 full days.
And third – they'll help you restore older versions of your site within just a single click if needed.
All of this is done standard, on all of their plans. Almost too good to be true.
5. Free Cloudflare CDN
FastComet will also throw in a free Cloudflare content delivery network (CDN) on their basic plans, too.
Content Delivery Networks will host your data across worldwide servers, so that it loads almost instantly for anyone, anywhere.
Most basic cloud hosting companies don't even offer this service on their plans. And if they do, you'll have to fork over a few extra bucks as an expensive upsell.
But not at FastComet. They'll throw one in gratis.
This, in addition to being open source friendly with over 150 applications, makes FastComet one of the best options for new businesses to get up-and-running ASAP.
6. Free Migrations
But wait, there's more!
If you already have a site on the interwebs, FastComet will help you move it over to their service for free.
Here's how it typically works:
The hosting company will say they do free migrations. When you actually need it, they'll send you a support doc that you'll have to figure out all by yourself.
Or, they'll use some janky 'wizard' tool to automatically move the info so they don't have to lift a finger.
FastComet, on the other hand, will have their own team of experts moves the entire site for you. So you won't have to lift a finger. It'll be all wrapped up in less than an hour, with zero additional fees or higher plans needed.
7. Free Domain for Life!
Yes, you read that right.
Sign up for a domain name through FastComet and you'll get it for-ev-er.
We've reviewed over thirty other hosts, and this is the only time I remember seeing this benefit.
Sure, most other hosting companies will happily sell you a domain name. They might even throw the first year in for free or knock off a few bucks to sweeten the deal.
But then what happens?
After that first year expires, they get you on the renewal rate. You're obviously not going to get a new domain name after, right?
So they take advantage. The first year might have only been a few bucks, but subsequent years might cost you 4-5X the initial price.
This is just one example of FastComet's honest, transparent pricing. Here's another…
8. Honest, Transparent Pricing
If you go to their website right now, FastComet's pricing will look something like this:
StartSmart: $2.95/month
ScaleRight: $5.95/month
SpeedUp: $9.95/month
Once again, most hosts will use low monthly fees like this to suck you in.
But then, after that initial deal expires, they'll jack up the rates.
Your hosting renewal fees might double or triple compared to the first year. Because there's no way in hell you'll want to move services again.
Now, with that in mind, let's take a look at the renewal pricing FastComet:
StartSmart: $2.95/month
ScaleRight: $5.95/month
SpeedUp: $9.95/month
It's exactly the same!
This, too, is almost unheard of in the hosting space. We've seen every trick in the book.
FastComet will keep your renewal prices fixed so you get to enjoy the same exact pricing as the day you signed up.
Cons of FastComet
FastComet's uptime was excellent, support was friendly, and they offer a ton of free goodies.
Of course, no company is perfect. Neither is FastComet.
Here are a few of the issues we've encountered so far.
1. Concerning Speed
I'll admit it:
We had high hopes. We were expecting a lot. Because on the FastComet site, there's a page that says "Why FastComet?"
Inside that page, there's yet another awesome graphic:
Pretty snazzy, right?
Now, here's the thing.
We've signed up, paid for, and tested all of those other sites listed. So we've got the cold-hard data to do the actual comparisons.
We just recently reviewed GoDaddy's hosting option, for example, and were honestly blown away by the speed results of a super-low 455ms over the last ten months.
Similarly, our BlueHost test site clocked in at only 425ms. While our favorites, the HostGator Cloud option, is a similarly-quick 419ms.
So far, these are all pretty good speeds. They're going to be tough to blow away.
The regular shared HostGator, however, came in at a sluggish 984ms. So yeah – that one shouldn't be too difficult to outperform.
But guess what?
Our FastComet site came in the same!
These past ten months, we've enjoyed a dreadfully-slow average loading speed of 955ms.
For those keeping track at home, that's more than two times slower than what the earlier graphic lists on their site.
You can see for yourself. Here's the data to back this up:
Last 10-month average speed:
December 2017 average speed: 1,351ms
January 2018 average speed: 1,245ms
February 2018 average speed: 893ms
March 2018 average speed: 938ms
April 2018 average speed: 908ms
May 2018 average speed: 875ms
June 2018 average speed: 834ms
July 2018 average speed: 789ms
August 2018 average speed: 794ms
September 2018 average speed: 925ms
Click here to find more detailed insights about Fastcomet uptime and speed.
FastComet Pricing, Hosting Plans & Quick Facts
Here's a quick overview of the hosting plans offered by FastComet:
StartSmart: You get a free domain name for life, space for a single site, 15GB of SSD space with unmetered traffic, for only $2.95/month.
ScaleRight: The middle tier offers the same free domain name for life and fixed renewal rates. They also throw in multiple websites and almost double your SSD space. All for only $5.95/month.
SpeedUp: FastComet's premier plan looks pretty similar to the last option, but with a little more space and the 'RocketBooster' option to speed things up. (Which according to our tests, might be worth the upgrade.) Keep in mind that it's going to cost you a little extra at $9.95/month.
More information about FastComet:
Free domain? Yes.
Ease of Signup: Easy signup process.
Payment Methods: All standard credit cards and PayPal.
Hidden Fees and Clauses: According to their terms of service, "We cannot and do not guarantee the accuracy or completeness of any information, including prices, product images, specifications, availability, and services. We reserve the right to change or update information and to correct errors, inaccuracies, or omissions at any time without prior notice."
Upsells: A few upsells, but not too many.
Account Activation: Fast account activation.
Control Panel and Dashboard Experience: cPanel.
Installation of Apps and CMSs (WordPress, Joomla, etc.): Access to over 150 popular open source apps.
Do We Recommend FastComet?
FastComet blew us away with several factors.
The uptime was among the strongest we've seen. The customer service was both friendly and fast. Even the pricing transparency was like a breath of fresh air.
There was only one big complaint. Unfortunately, it was a big one…
Maybe we got a dud, but our site's speed was just too slow to recommend FastComet.
Hopefully, that performance improves dramatically over the next few months and we can change our tune.